Introduction
SNAP 2 has both international and national origins.
No country – including Scotland – can expect to address all its human rights issues with one plan or in a relatively short time period. The UN advises that promoting and protecting human rights should be a continuing process. It recommends that as one national human rights action plan draws to an end, another is developed to take its place.
Following this approach, work to create SNAP 2 started in late 2017 as SNAP 1 came to an end. Hundreds of people and organisations across Scotland have been involved in developing SNAP 2. This process is explained in more detail below.
2017-2020 Pre-pandemic Development
SNAP 2 development started in late 2017 and continued into 2020, when the process was interrupted by the global COVID-19 pandemic.
2017 – SNAP 2 National Participation Process
In late 2017, over 1,500 people around Scotland took part in a National Participation Process to inform the future of SNAP. This was fully funded and coordinated by the SHRC.
The National Participation Process involved the following.
Eight community-based events around Scotland.
An online survey.
A National Participation Event of around 200 people.
During the National Participation Process, people analysed the SNAP 1 actions and recommendations from the SNAP 1 independent evaluation and UN treaty bodies. From this work, people identified key human rights themes and some possible actions for SNAP to focus on in the future.
Watch a short film of highlights from the 2017 national participation event.
Read a report about the SNAP 2 National Participation Process.
2018-2019 – Development Working Group
In early 2018, a Development Working Group (DWG) was formed to build upon the National Participation Process and progress SNAP development. The DWG was supported and chaired by the SHRC and had around fifteen members from Scottish civil society, public bodies, and rights holders. It met nine times between July 2018 and July 2019, supported by an independent facilitator, and carried out substantial work in between meetings.
The SNAP Development Working Group comprised representatives from the following organisations and groups.
Three members of the SNAP Adequate Standard of Living Reference Group (people with lived experience of a range of human rights issues).
Confederation of Scottish Local Authorities (COSLA).
Engender.
Equality and Human Rights Commission.
Health and Social Care Alliance Scotland (the ALLIANCE).
Human Rights Consortium Scotland.
NHS Health Scotland (now Public Health Scotland).
Police Scotland.
Scottish Care.
Scottish Council for Voluntary Organisations (SCVO).
Scottish Councils Equality Network.
Scottish Government.
Scottish Human Rights Commission (including former Chair and secretariat support).
Together: Scottish Children's Rights Alliance.
Unite.
During its work, the DWG did the following.
Learnt from the original evidence base underpinning SNAP 1, gathered more evidence and views about human rights issues from people and organisations across Scotland, and carried out further analysis.
Learnt from the independent evaluation of SNAP 1.
Learnt from the discussions and key themes proposed by the 2017 National Participation Process.
Proposed SNAP issues and actions related to the key themes.
Recommended a SNAP delivery, governance and resourcing model.
2019-2020 – Draft SNAP 2 Publication and National Consultation
In September 2019, the DWG published draft proposals for SNAP 2. This included the following.
25 key human rights themes.
Over 60 potential actions by 2025.
Rolling actions for 2025-2030.
Medium term outcomes and indicators of success.
A delivery, governance and resourcing model.
The draft SNAP 2 published in 2019 is also available in Easy Read.
The draft SNAP 2 was shared widely for comment, feedback and engagement in a national consultation process. This included the following.
An online consultation that ran for three months. This received over 60 responses including around 30 organisational responses.
Two engagement events, one for around 60 rights holders from communities who had been historically under-represented in previous outreach and engagement work, and one for around 30 representatives from national and local public bodies with relevance for proposed SNAP actions.
Bilateral engagement with key groups, including Gypsy Traveller groups and the Children and Young People's Commissioner.
Scottish Government officials from across relevant departments contributed extensive analysis and feedback on the fit between SNAP and their own work.
A report summarising the public and public body feedback on the draft SNAP 2 was published in September 2020 (delayed due to COVID-19).
In January 2020, just before the COVID-19 pandemic took hold in Scotland, the former SHRC Chair, some SHRC staff, and some DWG members met with Scottish Government Ministers and officials. After this, the SHRC submitted a Business Case to the Scottish Government with proposals to create an independent SNAP Secretariat (and staffing) and a Leadership Panel, as key activity to help get SNAP 2 finalised, published and implemented.
2020-2021 Developments during COVID-19 restrictions
COVID-19 struck in early 2020, and Scotland entered a period of nearly 16 months of lockdowns and other restrictions, during which many aspects of people's lives and work were severely disrupted. Despite this, some further development of SNAP 2 took place.
The SHRC published all collective SNAP action planning completed as of September 2020, setting out indicative costings where available, mapping draft actions to the National Performance Framework and identifying first steps required to implement the actions.
SHRC staff also carried out the following work:
Refined the long-list of draft SNAP 2 actions from 60 to around 50, based on the 2019 consultation feedback and subsequent changes in the external context, like COVID-19.
Identified potential delivery stakeholders for each draft action.
Created draft medium term outcomes.
2021-2023 SNAP Leadership Panel and Secretariat
As pandemic restrictions eased, SNAP 2 development was picked up, including the proposals set out in the SHRC Business Case to create a SNAP Leadership Panel (co-Chaired by the Scottish Government and SHRC) and an independent Secretariat.
With interim hosting and resources provided by SHRC, and funding provided by the Scottish Government, from October 2021 to March 2023, Lucy Mulvagh was seconded as an interim Secretariat Lead to set up an independent Secretariat, and recruit and support the new SNAP Leadership Panel to review, revise, finalise and publish SNAP 2.
From February to April 2022, members of the multi-stakeholder SNAP Leadership Panel were openly recruited, appointed, and took part in an immersive induction programme.
The Panel's substantive work to review, revise and finalise SNAP 2 took place from May 2022 to February 2023. Panel members worked together collaboratively and as equals, using a form of consensus-based decision-making to agree SNAP 2 actions.
In developing the actions, the Leadership Panel did the following.
Built upon the foundations of SNAP.
Agreed guiding human rights principles and eight priorities.
Identified core criteria for SNAP 2 actions.
Reviewed the refined long-list of draft SNAP 2 actions.
Analysed the wealth of information and evidence from the 2017-2020 development phase, and the changes that had occurred since, like COVID-19 and the cost of living crisis.
Noted gaps on issues that SNAP 2 actions could address.
Identified 54 ambitious but practical actions that could be delivered collaboratively by rights holders, public bodies, and civil society organisations, working together.
Created medium term outcomes.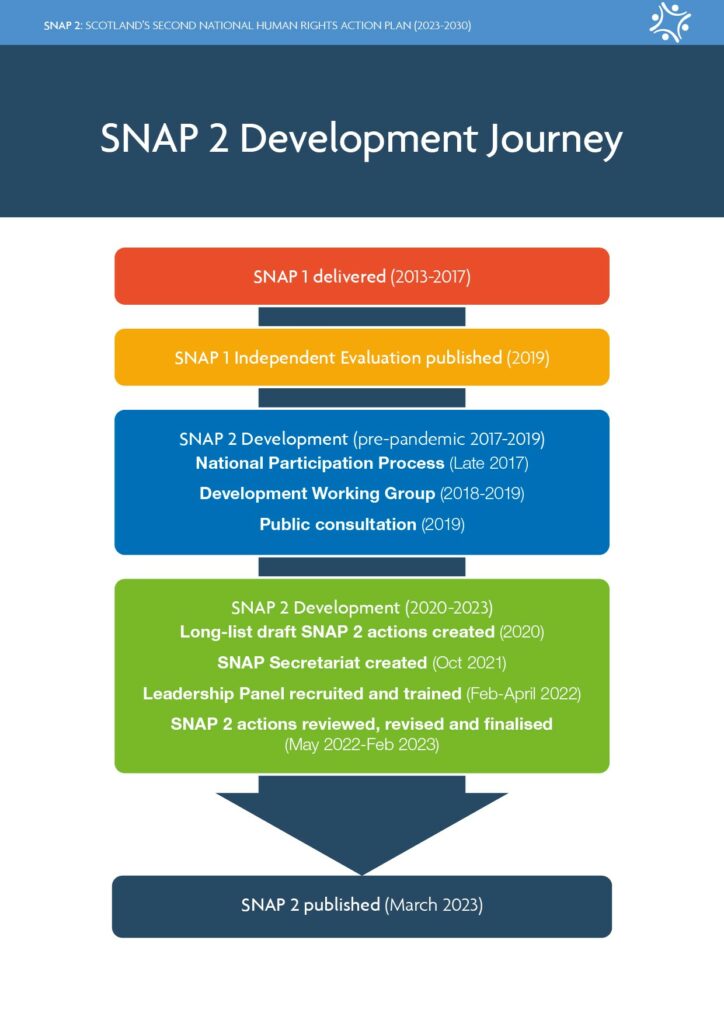 End of page.